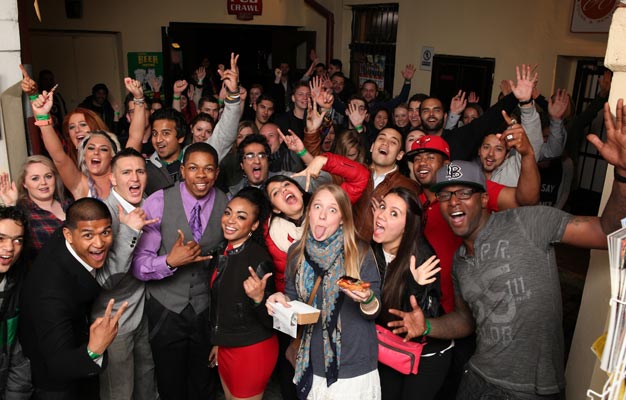 Prague Pub Crawl
Prague Pub Crawl
je uistinu međunarodni stranka i jedan od najvećih u organizaciji pub pretražuje u Europi.
Prague Pub Crawl je velika prilika za susret s kolegama stranačke-istomišljenika putnike iz cijelog svijeta na službenim Pub puzati Bar.
Na Pub puzati Bar dobit ćete jedan sat neograničene piva, vina, votke i absinta!
Nakon Pub puzati Bar gosti će slijediti naše zabavnu crawl-vodiče i posjetiti tri od najvrućih barova u centru grada. Na svaku traku ćete dobiti besplatnu Domjenak metak!
Naš konačni cilj na ovoj pub puzati će biti najveći klub u središnjoj Europi,
Karlovy Lazne,
gdje Prague Pub Crawl ima VIP ulaz; tako da nitko ne plaćaju i ne morate čekati u redu kako bi dobili u. Klub ima 5 katova s ​​različitim temama i stilovima glazbe na svakoj razini. Ovaj klub ne isključuje blizu do 04:00! Dame i muškarci će dobiti besplatne izvorno Prague Pub indeksiranja majice!
Vaš akcije upakirane noć u Pragu čeka!
Važne informacije:
-The Turneja će biti na engleskom jeziku.
-Child Dob: Niti jedno dijete stopa, svi moraju biti stariji od 18 godina. Dokazati na dob može biti upitani za!
Besplatnu pivo, vino i snimaka (Ne ad libitum!) Su uklj. u cijenu.
Ne hrana je uključena u cijenu.
-The Turneja ide po kiši ili suncu, tako da nose odgovarajuću odjeću i obuću, kao što je šetnja.
-Ovaj Turneja počinje u Prag Pub Crawl Baru i završava na zadnji Pub / Club u
Karlovy Lazne
na ovoj Prague Pub Crawl turneju!
Book now
Fantastic:
4.3
– 4

reviews
What's included?
- Unlimited beer, wine, vodka cranberry shots and absinthe shots.
- A free welcome shot at two bars.
- VIP entrance to the nightclub Karlovy Lazne.
Smjerovi
Prague Pub Crawl
Address
Prague Pub Crawl Celetna Street 12 Prague 1 (25 m from Old Town Square)
English helpdesk

+44 20 3870 3444
Need help with your booking? We will gladly answer your questions.