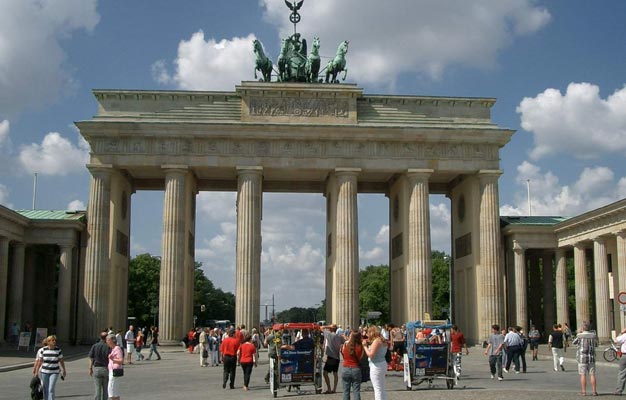 Berlin Walking tour
Otkrijte sve glavne vida Berlinu ovog razgledavanja njemačke Kapitol. Saznajte sve o Berlins povijest i vidjeti kako je lijep ovaj grad je na danas. Ulaznice za Berlinskog šetnja se mogu rezervirati ovdje!

Berlin šetnja je za vas koji vole vidjeti većinu Berlinu u 3-4 sata. Vi ćete naučiti o pruskog i carske povijesti Berlina, o mračnom vremenu kada je Berlin bio glavni grad nacističke Njemačke, te o Hladnog rata pa sve do 21. stoljeća Berlinu.

Vi ćete vidjeti i čuti o glavnoj očima Berlinu svidjeti; Berlinskog zida, na mjestu Hitlers Bunker, Brandenburških vrata, Checkpoint Charlie, Reichstaga zgrade, Deadstrip, Unter den Linden, TV toranj i još mnogo, mnogo više. Također ćete čuti o poznatoj osobi koja je ostavila svoj ​​trag u Berlinu poput Alberta Einsteina, Marlene Dietrich i JFK-a.

VAŽNA OBAVIJEST:
- Turneja je na engleskom jeziku.
- Trajanje je oko 3? Do 4 sata.
- Turneja je na travnja-listopada na 10:30 i 14:00 dnevno. Od studenog do ožujka u 10:30 svaki dan.
- Turneja počinje Izvan Restaurant Weihenstephaner, Neue Promenade 5, 10178 Berlin. (Nasuprot Hackescher Markt S Bahn-Station).
- Cijena je za sve mlade u dobi od 26 godina.
- Djeca do 12 godina je slobodan ako su zajedno s plaćati odrasle.
- Turneja je na kiši ili suncu! Zato molimo nositi odjeću i obuću u skladu s vremenskim uvjetima!
- Ne postoji hrana ili piće uklj. u cijenu!
- Berlin šetnja završava na Gendarmenmarkt blizini Checkpoint Charlie.
Ticket categories
Youth price is for all under 26 years old.
Children under 12 years old is free if they are together with a paying adult.
Opening hours
Travnja-listopad .: 10:30 i 14:00 dnevno. Studenog - Mar .: 10:30 svaki dan.
Book now
Fantastic:
4.5
– 24

reviews
Change date free of charge Change date free of charge
You can now change your booked date free of charge! Simply use the form under Contact Us or send us an email to let us know the new date no later than 5 days before your booked date
Opening hours
Travnja-listopad .: 10:30 i 14:00 dnevno. Studenog - Mar .: 10:30 svaki dan.
Smjerovi
Berlin Walking tour
Address
Neue Promenade 3, 10178 Berlin
English helpdesk

+44 20 3870 3444
Need help with your booking? We will gladly answer your questions.