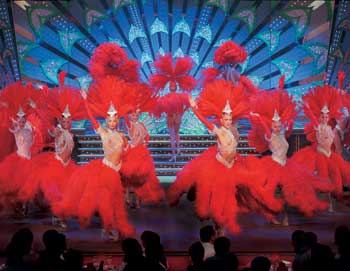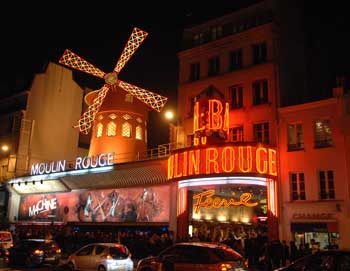 Moulin Rouge & Seine cruise
Fantastičan rijeke Seine Cruise u Parizu slijedi nevjerojatna Moulin Rouge show "Feerie". Kupite svoje ulaznice na krstarenje i Moulin Rouge u Parizu ovdje!

Možete početi večeras s prekrasnim rijeke krstarenje niz rijeku Seine otkriva ljepotu pariških spomenika i mostova.

River Cruise slijedi nevjerojatna Moulin Rouge emisiji "Feerie", s Can-Can ples, usred odjecima Toulouse-Lautrec. Pola boce šampanjca će biti poslužen u Moulin Rouge

Trajanje: 5-6 sati.

Odlazak Times: Svake večeri u 20:00. Molimo biti na polaska najmanje 20 min. Prije početka.
Moulin Rouge i Cruise počinje i završava na 214, Rue de Rivoli, 75001 Parizu.
Napomena: Vi ćete biti zatraženo u autobusu koji Hotel živite u, a ako je u središtu Pariza, autobus će se zaustaviti u neposrednoj blizini vašeg hotela, tako da možete sići tamo.

* Između različitih atrakcija na ovoj turneji bit će prevezeni u luksuznom trener s A / C.
* Moulin Rouge je uvijek vrlo popularan, pa bi moglo biti vrijeme i linije čekaju da se u Moulin Rouge. Za to nam ne može se smatrati odgovornim.
* Često postoje mnogi klijenti u Moulin Rouge, tako da prostor na Moulin Rouge može biti ograničena i osjećam gužve.
* Formalni ili povremeni haljina je potrebno.
* Moulin Rouge nije prikladan za djecu. Djeca mlađa od 6 godina ne može prisustvovati Moulin Rouge
Ticket categories
Adult (12+)
Child (6-11)
Children under 6 years old is not allowed at Moulin Rouge.
Book now
Fantastic:
4.4
– 31

reviews
Refundable tickets Refundable tickets
Refundable up to 48 hours before performance date. A cancellation fee of up to 20% pr. ticket may apply
Smjerovi
Moulin Rouge & Seine cruise
Address
Place de Sydney, 75015 Paris
English helpdesk

+44 20 3870 3444
Need help with your booking? We will gladly answer your questions.