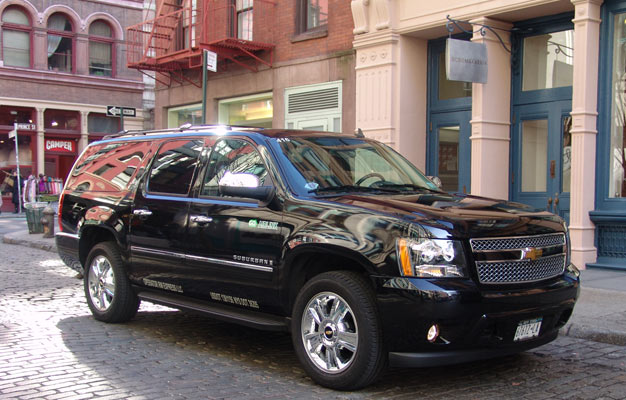 JFK Airport Transfer: Private Transfer
Umjesto ističući o javnom prijevozu ili pokušavate zastavom taksi, odaberite naš isplativ privatni prijevoz, tako da vaš odmor u New Yorku može početi bez muke. Naš vozač će vas dočekati na njujorškom aerodromu JFK i odvesti vas do vašeg hotela.

Bez obzira na to, ako putujete sami, kao par, ili u velikoj skupini, naši iskusni, profesionalni vozači će osigurati svoj prijevoz do i od zračne luke JFK je povjetarac!

Ovdje možete naručiti brz, učinkovit i privatni prijevoz između zračne luke JFK i vašeg hotela. Naša vrata do vrata politika osigurava prijevoz kako bi i iz svog hotela i zračne luke JFK.

Samo rezervirajte svoj privatni JFK zračne luke ovdje, a vi ćete se zadovoljiti svojim vrlo vlastiti vozača u zračnoj luci. Ako želite, možete naručiti prijevoza natrag, od hotela do zračne luke.

Važne informacije:
- Nedugo nakon što je vaša rezervacija je završeno, dobit ćete e-karte putem pošte. Molimo ispisati svoju ulaznicu i donijeti ga sa sobom.
- Ako želite naručiti privatni zračne luke JFK okrugli shuttle putovanje, morate staviti dvije zapovijedi: Jedno od zračne luke do hotela i jedna od hotela do zračne luke, jer svaki rezervacija treba imati svoje potvrde broj.
- Prije nego što završite svoj rezervaciju, od vas će biti zatraženo da nam osobna imena, datuma dolaska / odlaska, podatke o letu i svoj hotel (uključujući adresu i broj telefona), tako da možemo organizirati transfer.
- Djeca su cijene iste kao odrasle osobe.
- Cijene su ovdje na stranicama navedeni su po autu, a ne po osobi.
- Možete birati između limuzina, ako ste od 1-3 ljudi, VIP SUV ako su 4-6 i kombi, ako ste između 7-10 ljudi.
- Ti su dozvoljeni samo jedan standardni kofer i jedan komad ručne prtljage po osobi.
- Cijena za privatne JFK zračne luke uključuje savjete, cestarina i poreza.
Opening hours
Operativna vrijeme: 24 sata dnevno, 7 dana tjedno, 365 dana u godini.
Book now
Fantastic:
4.9
– 9

reviews
Refundable tickets Refundable tickets
Refundable up to 48 hours before performance date. A cancellation fee of up to 20% pr. ticket may apply
Opening hours
Operativna vrijeme: 24 sata dnevno, 7 dana tjedno, 365 dana u godini.
English helpdesk

+44 20 3870 3444
Need help with your booking? We will gladly answer your questions.