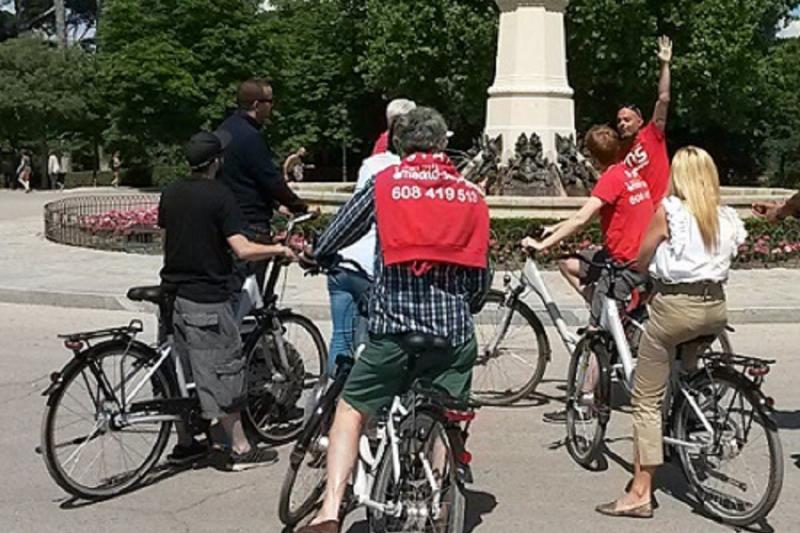 Madrid Cycling Sightseeing
Zašto se ne vidi iz Madrida biciklu? Pridružite se Madrid Biciklizam razgledavanje i otkrivanje Madrid na jedinstven i drugačiji i način. Rezervirajte svoje ulaznice za Madrid biciklističku turu ovdje!

Bilo da putujete sami ili s prijateljima, naš bicikla Obilazak je savršen način za provesti nekoliko sati u Madridu. Naše ture nude vam društvo poznavatelje engleskog govornog vodič, udoban i "lako voziti bicikl", korisne savjete i savjete o tome što treba učiniti i vidjeti, dok u Madridu i zabavan i informativan vanjski doživljaj.

Vi ćete završiti turneju s osjećajem da ste vidjeli znamenitosti i stečen znati što vam je potrebno o Madridu, a ima zabavno, zabavnu i društvenu iskustva u tom procesu.

Mi biciklom do najvažnijih znamenitosti Madrid: Templo de Debod, Royal kazalište, Kraljevska palača, Almudena Cathedral, Plaza de la Paja, gradski trg, Plaza Mayor, Puerta del Sol, St. Ann's trg, Paseo del Prado, muzej Prado, Retiro park, Alcala vrata i Cibeles trg.

Mi ćemo voziti uglavnom na biciklističkih staza, pješačkih zona i parkova i naravno mi ćemo napraviti prestaje da se neke fotografije i popiti piće.

Vi nikada neće zaboraviti ovo veliko iskustvo!

Važne informacije:
- Tour je na engleskom jeziku!
- Ulaznica vrijedi samo na rezerviranog dan.
- Molimo vas da dođete 15 minuta prije polaska.
- Imajte na umu ovaj izlet je na zahtjev, a to će potrajati do 48 sati kako bi se to potvrdilo.
- Imajte na umu ovaj izlet može biti otkazan, u kratkom roku, zbog lošeg vremena.
- Ako Turneja je otkazana zbog vremenskih ćemo se potruditi da vam se obratimo i ponuditi vam alternativne datumi!
- Djeca mlađa od 12 godina nije dopušteno na ovoj turneji!
- Sudionici na ovoj turneji mora imati punu sposobnost pokreta i moći penjanje i spuštanje stepenicama bez pomoći.
- Preporučamo udobnu odjeću i obuću. Zimi molimo nositi toplu odjeću, au slučaju kiše molimo nositi neke vode štiti odjeću. Kiša pončo su dostupni, treba im biti potrebna. Kacige su dostupni na zahtjev za besplatno.
- Madrid biciklističke ture počinje i završava u Madridu biciklističku turu / Trixi.
Book now
Fantastic:
4.2
– 11

reviews
Refundable tickets Refundable tickets
Refundable up to 48 hours before performance date. A cancellation fee of up to 20% pr. ticket may apply
Smjerovi
Madrid Cycling Sightseeing
Address
Avenida de Menéndez Pelayo, 9 28009 Madrid Spain
English helpdesk

+44 20 3870 3444
Need help with your booking? We will gladly answer your questions.