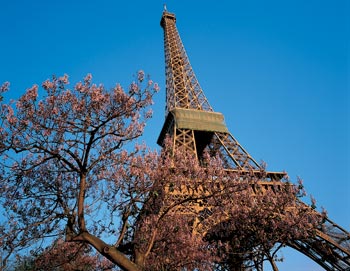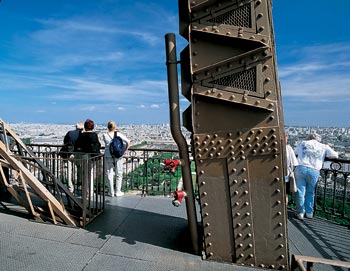 Eiffel Tower: Audio guided tour & cruise - 5 hours
Ovaj 3 put izlet, "Pariz Panoramski izlet", daje vam priliku da otkrijete Pariz, njegovu povijest i velike zgrade s luksuznim trenera, od krstarenja dolje Seine i od Eiffelovog tornja.
Prvi korak je autobusom s audio komentare (dostupan na 13 jezika uključ. Engleski, španjolski, francuski, njemački, talijanski, nizozemski), tako da možete čuti povijest Pariza i diviti svoje glavne trgove, mostove, glavne ulice i zgrade , kao što su:
Opera trgu Concorde, Champs-Elysees, Slavoluk pobjede, Trocadero trgu Invalides, Pont Neuf-Bastille, trga i opere, Notre-Dame katedrale, Luksemburg vrtovima, Saint-Germain des Pres i Eiffelov toranj .
Autobus dio ovog obilazak završava u podnožju Eiffelovog tornja, a odavde ekipa će vas dočekati na brodu jedan od tri trimarans pripadaju
"Bateaux Parisiens",
za jedan sat
krstarenje dolje Seine,
drugi dio turneje!
Potpuno opremljen stakla, s terasom i prolazima iza cijele, ovi brodovi su savršeno dizajniran za otkriti i diviti se bogatoj arhitekturu grada. Jasan i živopisan komentar popraćen stihovima i glazbom evocirajući razna mjesta i vremena, emitira se kroz individualne slušalice (također dostupan na 13 jezika uključujući. Engleski, španjolski, francuski, njemački, talijanski, nizozemski).
Razgledavanje Cruise i završava u podnožju Eiffelovog tornja, gdje se preskočiti crtu i ići izravno na dizala za vožnju do
2. katu Eiffelovog tornja
koji vam daje prekrasan panoramski pogled na Pariz, što je konačna dio "Paris Panoramski Tour". Ako vam se sviđa, možete kupiti ulaznice na 3. katu Eiffelovog tornja tamo.
Trajanje:
5 sati. (Ovisno o tome koliko dugo ćete potrošiti na Eiffelovom tornju)
Odlazak Times:
09:00, 12:00 ili 14:45. Molimo biti polazište za najmanje 20 minuta. Prije početka.
* Napomena: U rijetkim slučajevima Eiffelov toranj će biti zatvoren za posjetitelje zbog održavanja, lokalne štrajka u Parizu ili Eiffelovog tornja, prometnim problemima itd u tim slučajevima posjet Eiffelov toranj će biti zamijenjen posjetom Montparnasse tornja u Parizu. Mi ne bi upozorio unaprijed, ali ćete biti rečeno u Parizu, od strane našeg agenta, prije nego što Turneja počinje. Mi ne možemo biti odgovorni za te posljednje minute promjene zbog nepredviđenih Eiffelov toranj održavanje, lokalne štrajka u Parizu i / ili na Eiffelov toranj, prometni problemi itd i ako ne možete prihvatiti, nemojte rezervirati ovu turneju, jer nema povrata se dati ako Eiffelov toranj zamjenjuje Montparnasse tornja!
Razgledavanje znamenitosti, Cruise i Eiffelov toranj / Pariz Panoramska vožnja počinje u 2 Rue de Pyramides 75001 Parizu, a završava na Eiffelovom tornju!
Book now
Fantastic:
4.2
– 315

reviews
Refundable tickets Refundable tickets
Refundable up to 48 hours before performance date. A cancellation fee of up to 20% pr. ticket may apply
Save time – Skip the line
What's included?
- Skip the line-ticket to the Eiffel Tower.
- A bus tour through Paris.
- A cruise on the Seine.
- An audio guide.
Smjerovi
Sightseeing, Cruise & Eiffel Tower
Address
PARISCityVISION 2 Rue des Pyramides 75001 Paris
English helpdesk

+44 20 3870 3444
Need help with your booking? We will gladly answer your questions.