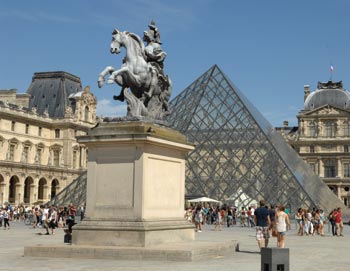 The Best of Paris
Ovaj izlet "Pariz Cijeli dan" je savršen način da otkrijete sve Paris uklj. Posjet u Louvre i Notre Dame, krstarenje niz Seine i ručak na Eiffelovom tornju!

Budući da su svi spomenici posjetili na ovaj dan je izlet nalazi duž Seine, predlažemo korištenje neobične načine prijevoza: rijeke Shuttle. Dan započinje s vodičem posjet od glavnih prostorija u muzeju Louvre, uklj. Venus de Milo "," Krilati Pobjeda "i" Mona Lisa "naslikao Leonardo da Vinci.

Zatim, rijeka shuttle vas vodi na Seini i prolazi mnoge pariške lijepih spomenika na putu do Eiffelovog tornja gdje je ručak (2 kolegija uklj. Pića) je služio u jedinstvenom ambijentu novom restoranu koji se nalazi na 1. katu toranj. Postoji vrijeme za predaju posjetiti spomenik.

Zatim, off s rijeke shuttle ponovno za katedrali Notre-Dame. Razgledavanje ove gotičke umjetničkog djela sagrađena između 1163 i 1345 je uključen u turneju!

Tour je na engleskom jeziku!

Sve ulaznice i ručak uključeni u cijenu!

Trajanje: 7.5 sati.

Odlazak Times: Tour počinje u 09:30. (Iz travnja-listopada .: Mon. & srijeda do Sunca). (Iz studeni-ožujak ponedjeljka, pet do Sunca) Zatvorena svake prve nedjelje u mjesecu. Molimo biti na polaska najmanje 20 min. Prije početka.

Louvre Tour počinje u 2, Rue des Pyramides, 75001 Paris, a završava u Notre Dame!

NB. Hodate od 2, Rue des Pyramides, 75001 Paris, kroz Tuileries vrtove muzeju Louvre!
Opening hours
Tour počinje u 09:30: Od travnja-listopad .: ponedjeljka, srijede čet, pet, sub. I ned Od studeni-ožujak ponedjeljka, pet, sub I ned
Change date free of charge Change date free of charge
You can now change your booked date free of charge! Simply use the form under Contact Us or send us an email to let us know the new date no later than 5 days before your booked date
Refundable tickets Refundable tickets
Refundable up to 48 hours before performance date. A cancellation fee of up to 20% pr. ticket may apply
Duration: 7 hours 30 minutes
Departure times
The Tour starts at 9.30am: From Apr. to Oct.: Mon., Wed., Thur., Fri., Sat. & Sun. From Nov. to Mar. Mon., Fri., Sat. & Sun
Smjerovi
The Best of Paris
Address
Louvre Museum, Arc du Carrousel, 75001 Paris
English helpdesk

+44 20 3870 3444
Need help with your booking? We will gladly answer your questions.