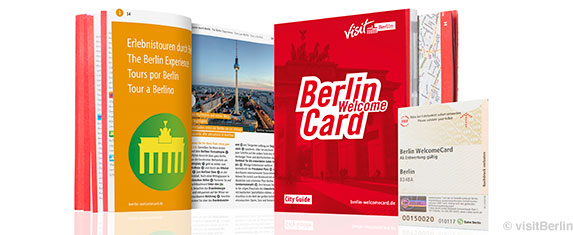 Refundable tickets

Price Match Promise

Bestseller









Berlin WelcomeCard
Berlin WelcomeCard je (skoro) sve što vam je potrebno kada je u posjetu Berlinu. Berlin WelcomeCard vam daje neograničenu javnog prijevoza (zona AB ili ABC) i velike popuste za više od 200 muzeja, vodstva, restorana i wellness.
Što je uključeno?
- Neograničeno korištenje javnog prijevoza (S + U-Bahn, autobus, tramvaj, lokalni vlak)
- Birajte između 48, 72 sati ili čak pet dana
- Turistička zona unutar Berlin (AB) ili Berlin + Potsdam (ABC)
- Djeca do 6 godina su besplatni
- 25-50% popusta na više od 200 muzeja, znamenitosti i restorana
- Zgodan džepni vodič
- Izvucite kartu grada u Berlinu + Potsdamu
Odaberite Berlin WelcomeCard
Možete birati između 48 sata, 72 sati, 5 dana ili u Muzej otoka 72 sat u Berlinu WelcomeCard bilo za Berlin (zona AB) ili Berlin i Potsdam (zona ABC).
Pogledajte kartu zonama
OVDJE!
Berlin WelcomeCards zona AB su vaild za odraslu osobu.
Berlin WelcomeCards zona ABC su vaild za odraslu + max. 3 djece (do 14 godina).
Muzejski otok WelcomeCards također uključuje besplatan ulaz u sve muzeje na Muzejski otok (Museumsinsel) u tri uzastopna dana. Neke posebne izložbe su isključeni. Besplatno informativne brošure je dostupan na 5 jezika (engleski, njemački, talijanski, španjolski i francuski).
Ima li popust za djecu?

Ne, ali djeca od 6-14 godina stara turistička besplatno zajedno s odraslom osobom u Berlinu WelcomeCard sa zone ABC. Djeca mlađa od 6 godina su slobodni, kada putuju s plaćati odrasle drži bilo koju vrstu kartice.

Kako mogu dobiti moje ulaznice?
Nedugo nakon što je rezervacija završio svoju e-ulaznica bit će poslati izravno na svoj e-mail adresu. Samo ga isprintati i donijeti ga na bilo koji od nekoliko posjeta Berlinu uredima diljem Berlina, a na aerodromu, gdje je zamjenu za vaše Berlinu WelcomeCard.
Pogledajte gdje su posjetiti Berlin uredi
OVDJE!
Ticket categories
Child tickets are free: 0-6 years unlimited, 6-14 years max. 3 children. Please choose ticket number first, then zone and duration. Price depends on selected zone and duration.
Adult (15+)
Opening hours
Vaš Berlin WelcomeCard vrijedi za bilo koje od 48 sati, 72 sati i 5 dana.
Book now
Fantastic:
4.5
– 354

reviews
Refundable tickets Refundable tickets
Refundable up to 48 hours before performance date. A cancellation fee of up to 20% pr. ticket may apply
Price Match Promise Price Match Promise
If you find a better price for this product within 48 hours of completing your booking, we will refund the difference in price in full.
Opening hours
Vaš Berlin WelcomeCard vrijedi za bilo koje od 48 sati, 72 sati i 5 dana.
What's included?
- Unlimited use of public transportation in either fare zones Berlin AB or zone ABC.
- Card valid for either 48 or 72 hours - or 4, 5 or 6 days.
- Up to 50% discount.
- A pocket guide with tour suggestions and a city map.
- Bring up to 3 children of the age of 14 and under - they travel free of charge.
English helpdesk

+44 20 3870 3444
Need help with your booking? We will gladly answer your questions.