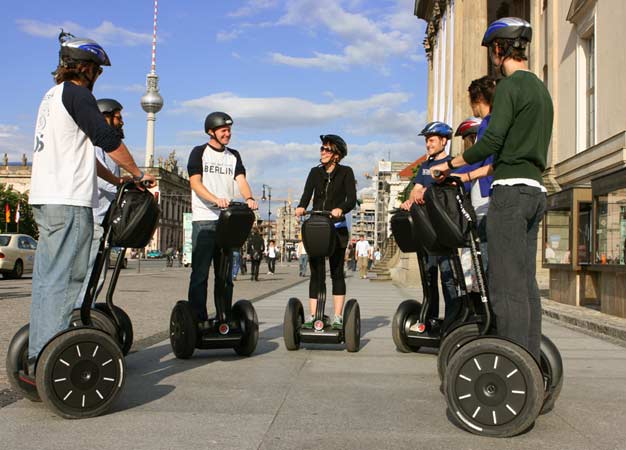 Berlin Segway Tour
Uživajte u Berlinu od Segway, najbolji i najzabavniji način za istraživanje Berlin, i to nije sve zabavno, naučit ćete puno o glavnom gradu Njemačke, kao dobro. Ulaznice u Berlin City Segway Tour mogu rezervirati ovdje!
U oko 3-3½ sata na našoj
All-in-One City Segway Tour
ćemo vam pokazati sve glavne znamenitosti Berlina, zaustavljajući se svakih nekoliko stotina metara kako bi ih potopiti u, čuti fascinantne anegdote, fotografirati i razgovarati o Berlinu povijest. Vaš poznavatelje materinji engleskog govornog vodič će objasniti suvremenih činjenica i načina života aspekte o Berlinu, dok je na raspolaganju za sva pitanja.
Vi ćete vidjeti i čuti sve o
Berlinskog zida
i lutati
Checkpoint Charlie.
Vi ćete stajati na vrhu
Hitlerova bunkera
i vidjeti
Reichstag
i čuti o spaljivanju koji u konačnici dovesti do Hitlerovog uspona na vlast. Uz vožnju Segway također ćete vidjeti i čuti o
Brandenburg Tor, Marx i Engels Platz, Postdamer Platz, Unter den Linden, 'Deathstrip'
da je podijeljen Istoka i Zapada
Berlin,
Berlin
Statsoper
i još mnogo, mnogo više.
VAŽNE INFORMACIJE:
- Sve ture su na engleskom jeziku
- Trajanje je 3 do 3½ sat, uklj. 30 minuta. trening.
- Trudnice i osobe mlađe od 15 godina ne mogu sudjelovati na ovoj turneji, i dokazati starosti mora biti prikazan na zahtjev!
- Sudionici moraju vagati između 45kgs i 115klgs da sudjeluju na ovoj turneji!
-Sve Sudionici moraju posjedovati mopeda licencu ili vozačku dozvolu!
- Morate platiti polog od 200 eura, - svaku rezervaciju (NE osoba) izravno u vodiču prije početka putovanja, bilo u novcu ili u obliku kreditne kartice depozita, a to će biti vraćen natrag na vas na kraju turneje , pod uvjetom da svoj Segway je pretrpio nikakvu štetu!
- Molim te nositi odjeću u skladu s vremenskim uvjetima i ravnu obuću kao Segway funkcije radi bolje s ravnim cipelama nego štiklama. -Berlin Segway Tours počinje i završava na TV Tower, Alexanderplatz u Berlinu.
Ticket categories
Can children participate?
No, children under age 15 are not permitted on this tour. Participants must be at least 15 years old.
Book now
Fantastic:
5.0
– 5

reviews
Change date free of charge Change date free of charge
You can now change your booked date free of charge! Simply use the form under Contact Us or send us an email to let us know the new date no later than 5 days before your booked date
Refundable tickets Refundable tickets
Refundable up to 48 hours before performance date. A cancellation fee of up to 20% pr. ticket may apply
Duration: 3 hours 30 minutes
Smjerovi
Berlin Segway Tour
Address
Berlin City Segway Tour, TV Tower, Alexanderplatz, 10178 Berlin.
English helpdesk

+44 20 3870 3444
Need help with your booking? We will gladly answer your questions.