Refundable tickets

Expert guides

Small groups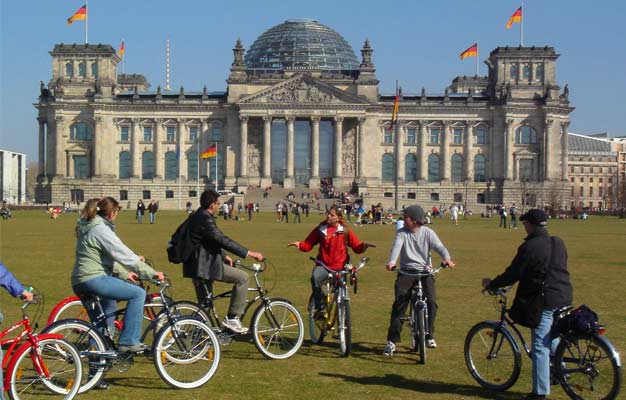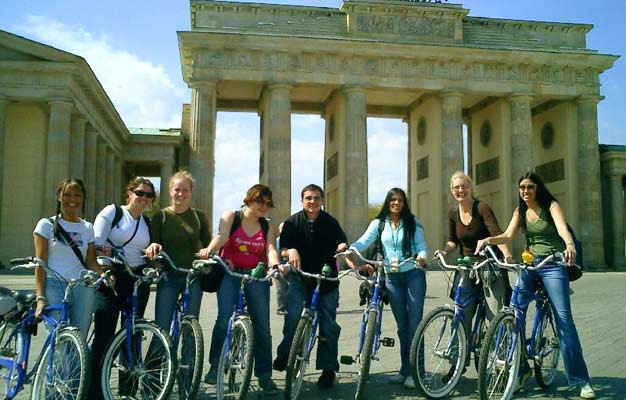 Berlin City Bike Tour
Naš Sve u jednom Berlin City Bike Tour je sjajan način da saznate o ovom velikom gradu u jednoj turneji! Uzmite punu orijentaciju Berlinu u prošlosti i danas - rezervirajte svoje ulaznice za naše, sve u jednom Berlin City Bike Tour ovdje!

U oko 4,5 sata smo pokriti samo oko 6 milja (10 km) i prestati svakih nekoliko stotina metara kako bi se u Berlinu znamenitosti. Ovaj izlet nije teško, a primjenjuje se za sve uzraste i sve razine fitnessa, te je odličan način da se vidi sve Berlinu!

Ovaj Tour uključen. Sljedeći Berlinu Izdvajamo, koji će se objasniti našeg vodiča i raspravljali svi u grupi: Berlinski zid, Trećeg Reicha u Berlinu, pruski Berlin, Brandenburger Tor, Marienkirchen, Marx i Engels Platz, Hitlerov bunker, Potsdamer Platz, ' Deathstrip 'koji dijele Istoka i Zapada Berlin, Checkpoint Charlie, spomen ubijenim Židovima Europe, Reichstaga i još mnogo, mnogo više!

Zaustavit ćemo se za ručak u pivo vrt u park Tiergarten. Ručak i piće za ručak NIJE uključen. u cijenu ulaznice!

Kao Berlin je vrlo velik grad, a također je vrlo ravna, Berlin je savršen za razgledavanje na biciklu. Dakle, pridružite se našoj sve u jednom berlinskom City Bike Tour i vidjeti Berlin od najboljih načina - na biciklu!

VAŽNA OBAVIJEST:
- Sve ture su na engleskom jeziku
- Trajanje je cca. 4½ sat
- Radno vrijeme: 1 ožujak - 30 travnja: svakodnevno u 11:00 sati. 1 svibanj - 30 rujan: svakodnevno u 11:00 i 16:00. 1 listopada - 30 studenog: svakim danom u 11.00 sati. 1 prosinac - 28 veljače: srijeda -Sub na 11:00
- Hrana i piće na pauzi za ručak nije uključen u cijenu. u cijenu
- Turneja djeluje kiša ili sunce, pa vas molimo da nose odjeću u skladu s vremenskim uvjetima. Možete iznajmiti kišne pelerine dostupne iz vodiča za € 1 svaki!
- Djeca moraju biti u stanju bicikl vlastitu bicikla za sudjelovanje na ovoj turneji!
- Sve u jednom berlinskom City Bike Tour počinje i završava na TV tornju na Alexanderplatz u Berlinu.
Refundable tickets Refundable tickets
Refundable up to 48 hours before performance date. A cancellation fee of up to 20% pr. ticket may apply
Duration: 4 hours 30 minutes
Smjerovi
Berlin City Bike Tour
Address
Berlin Fat Tire Bike Tours, TV Tower, Alexanderplatz 10178 Berlin
English helpdesk

+44 20 3870 3444
Need help with your booking? We will gladly answer your questions.