Refundable tickets

Expert guides

Small groups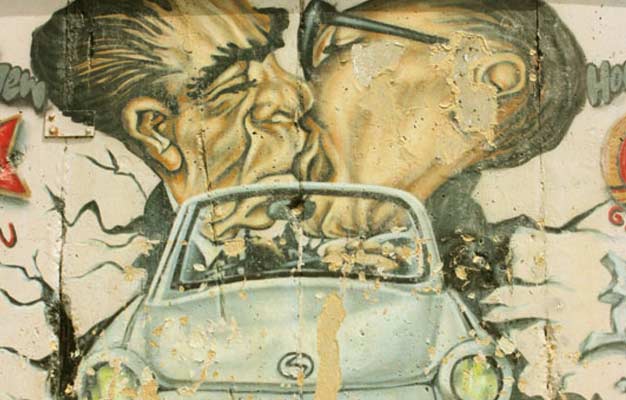 Berlin Wall and Cold War Bike Tour
Naš Berlinskog zida i završetka Hladnog rata Bike Tour vas vodi u tamnijoj strani Berlina povijesti. Ovaj 5 sati bicikla od cca. dužina 14 km turneju po Berlinu pokazuje kako Berlinski zid i Hladni rat je imao ogroman utjecaj na Berlin. Rezervirajte svoje ulaznice ovdje!

Naš Berlinski zid i Hladni rat Tour vodi istočno duž impozantnom Karl-Marx-Allee prije uzimanja u šarene East Side Gallery (kilometarska protežu još uvijek stoji zid, poznat po grafitima) i snažan Treptower Park Memorial (Više od 3200 su pali sovjetske trupe pokopan i olakšice koje oblažu spomenik su najfinijim staljinističke propagande To je utabana turističke staze -. još uvijek prilično pristupačan biciklom). Od tamo smo se vratili kroz bivše ničijih zemljišta deathstrip posjetiti bivše punktove i čuti priče o špijunaži i pobjeći pokušaja. Staviti Hladnog rata, u perspektivi ćemo Timeline druge važne svjetske događaje pokazati kako to učinkovito staviti Berlin na čelu hladnoratovske napetosti.

Mi pauzu za ručak u lijepom kafiću u ostacima starog željezničkog kolodvora Split strane Zida. Ručak i piće za ručak NIJE uključen. u cijenu ulaznice!

Kao Berlin je vrlo velik grad, a također je vrlo ravna, Berlin je savršen za razgledavanje na biciklu. Dakle, pridružite se našoj Berlinski zid & Hladnog rata Tour i vidjeti Berlin od najboljih načina - na biciklu!

VAŽNE INFORMACIJE:
- Sve ture su na engleskom jeziku
- Trajanje je approx.5 sat
- Radno vrijeme: travnja-listopada .: Mon., čet & Sub u 10:30
- Hrana i piće na pauzi za ručak nije uključen u cijenu. u cijenu
- Turneja djeluje kiša ili sunce, pa vas molimo da nose odjeću u skladu s vremenskim uvjetima. Možete iznajmiti kišne pelerine dostupne iz vodiča za € 1 svaki!
- Djeca moraju biti u stanju bicikl vlastitu bicikla za sudjelovanje na ovoj turneji!
- Berlinski zid i Hladni rat biciklijadu počinje i završava na TV tornju na Alexanderplatz u Berlinu.
Book now
Fantastic:
4.8
– 6

reviews
Refundable tickets Refundable tickets
Refundable up to 48 hours before performance date. A cancellation fee of up to 20% pr. ticket may apply
Smjerovi
Berlin Wall and Cold War Bike Tour
Address
Berlin Fat Tire Bike Tours, TV Tower, Alexanderplatz 10178 Berlin
English helpdesk

+44 20 3870 3444
Need help with your booking? We will gladly answer your questions.