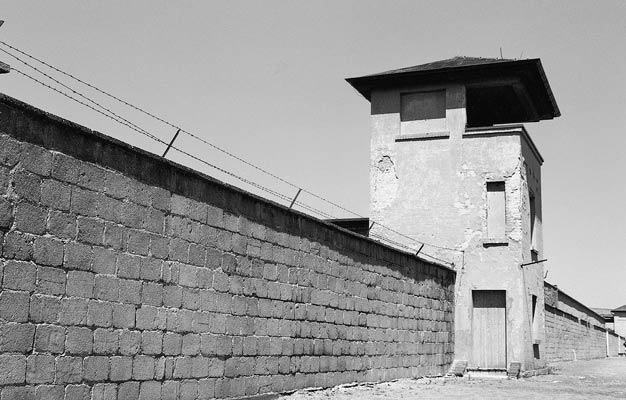 Sachsenhausen Walking Tour
Sachsenhausen šetnja izvan Berlin je turneja ćete se sjetiti. Evo nekoliko desetaka tisuća stradalo u rukama nacista tijekom Drugog svjetskog rata. Rezervirati ulaznice za Sachsenhausen Memorial izvan Berlina ovamo.

Sachsenhausen postala poligon za SS-a i mjesto u sjedištu cijelog koncentracijskog logora sustava. Nakon što su nacisti bili poraženi, Sovjeti koriste Sachsenhausen kao logor za svojim političkim neprijateljima - još tisuće su da propadne u narednih pet godina.

Naši kvalificirani vodiči će s poštovanjem odnositi na sljedeća teme na ovom posjetu Sachsenhausen:
Zašto Sachsenhausen i koncentracijski logor sustav osnovane od strane nacista.
Kako su uvjeti u logoru pogoršalo u 1939. (Posjet vojarne gdje su mnoge od tisuća židovskih zarobljenika u logor nakon takozvanog "Kristallnacht").
Kako SS koristi izvršenju kompleks u Sachsenhausen da počini djela masovnog ubojstva, uključujući i ubijanje 10.000 sovjetskih ratnih zarobljenika 1941.
Kako neke židovske zarobljenike preživjeli radeći u krivotvorenje radionice, krivotvorenja milijune funta.
Kako su Sovjeti okrenuli Sachsenhausen u poseban kamp za svoje neprijatelje nakon rata, koji su u zatvoru, a sudbina tih zatvorenika.
-I Konačno, kako istočnonjemački režim manipulirao povijest logora za svoje vlastite svrhe.

VAŽNA OBAVIJEST:
- Turneja je na engleskom jeziku.
- Trajanje je oko 6 sati uklj. Vožnja vlakom do i natrag iz Sachsenhausen.
- Turneja je na travnja-listopad .: uto čet, pet, i nedjeljom u 10:00. Studeni-ožujak: uto, sri i nedjeljom u 10:00.
- Turneja počinje Izvan Restaurant Weihenstephaner, Neue Promenade 5, 10178 Berlin. (Nasuprot Hackescher Markt S-Bahn stanica)!
- Kao što je ove turneje uklj. vožnje vlakom, molimo donijeti ABC kartu za javni prijevoz ili kupiti jedan od vodiča (2013 Cijena je 3,20 €).
- Cijena je za sve mlade u dobi od 26 godina.
- Djeca do 12 godina je slobodan ako su zajedno s plaćati odrasle.
- Turneja je na kiši ili suncu! Zato molimo nositi odjeću i obuću u skladu s vremenskim uvjetima!
- Ne postoji hrana ili piće uklj. u cijenu!
- Kao što je ograničene mogućnosti za kupnju hrane i pića unutar Sacsenhausen Memorial, savjetujemo vam donijeti neke s vama.
- Naš izlet u Sachsenhausen šetnja završava na Berlin Hauptbahnhof.
Ticket categories
Children under age 12 are free when accompanied by a paying adult. Youth tickets are available for people under 26 years old.
Opening hours
25. ožujka do listopada, svaki dan u 10:00. Studenog - Ožujak: uto, sri i nedjeljom u 10:00.
What's not included?
As there are limited possibilities to buy food and drinks inside Sachsenhausen Memorial, we advise you bring some with you.
Book now
Fantastic:
4.4
– 53

reviews
Opening hours
25. ožujka do listopada, svaki dan u 10:00. Studenog - Ožujak: uto, sri i nedjeljom u 10:00.
Smjerovi
Sachsenhausen Walking Tour
Address
Neue Promenade 3 10178 Berlin
English helpdesk

+44 20 3870 3444
Need help with your booking? We will gladly answer your questions.